Submit Inspection Request by PE (Project Engineer)
Login to

CTMS

In the RERTO Inspection module, click Conduct RE/RTO Inspection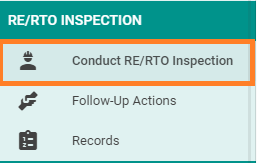 Click [ + ] button on inspection detail list


Fill in the Location, Location Remark, Inspection Scope, Inspection Sub Scope, and Description of Work to be Inspected fields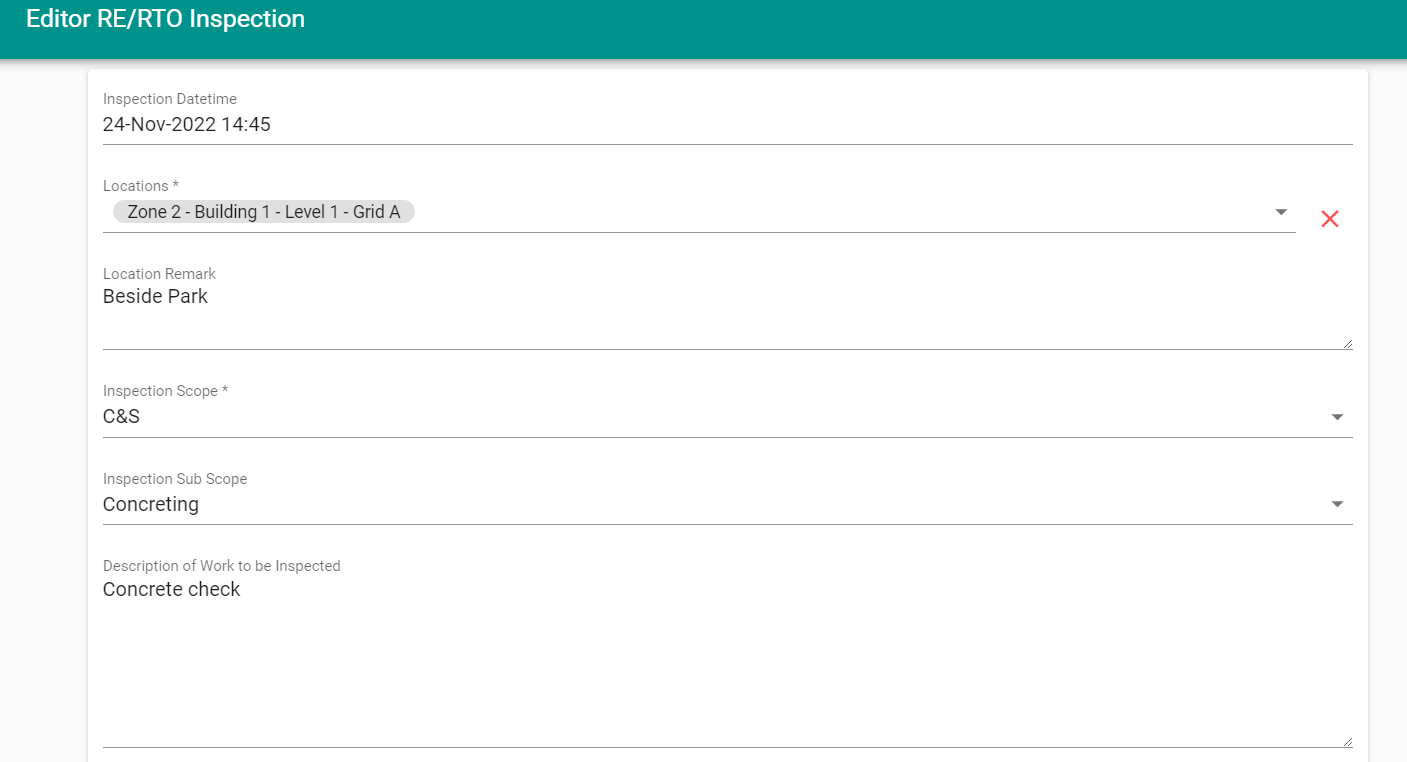 Next select RE 1 person, if needed select RE 2 as well (Optional)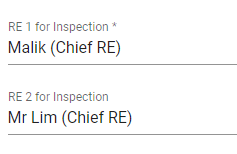 Attach Documents if any, the maximum number of attachments is 10 items


Attach RE/RTO Inspection Checklist (required)

If you have submitted an Inspection checklist previously in Records or in My Tasks, your Inspection checklist will appear in the list.


If you have not submitted an Inspection Checklist, you can create an Inspection Checklist by clicking the CREATE button.


Attach Site Inspection Checlist

The default date filter is Last 30 Days, and the Checklist only will appear in the list if the checklist has already been completed

Fill in the signature, then click SUBMIT.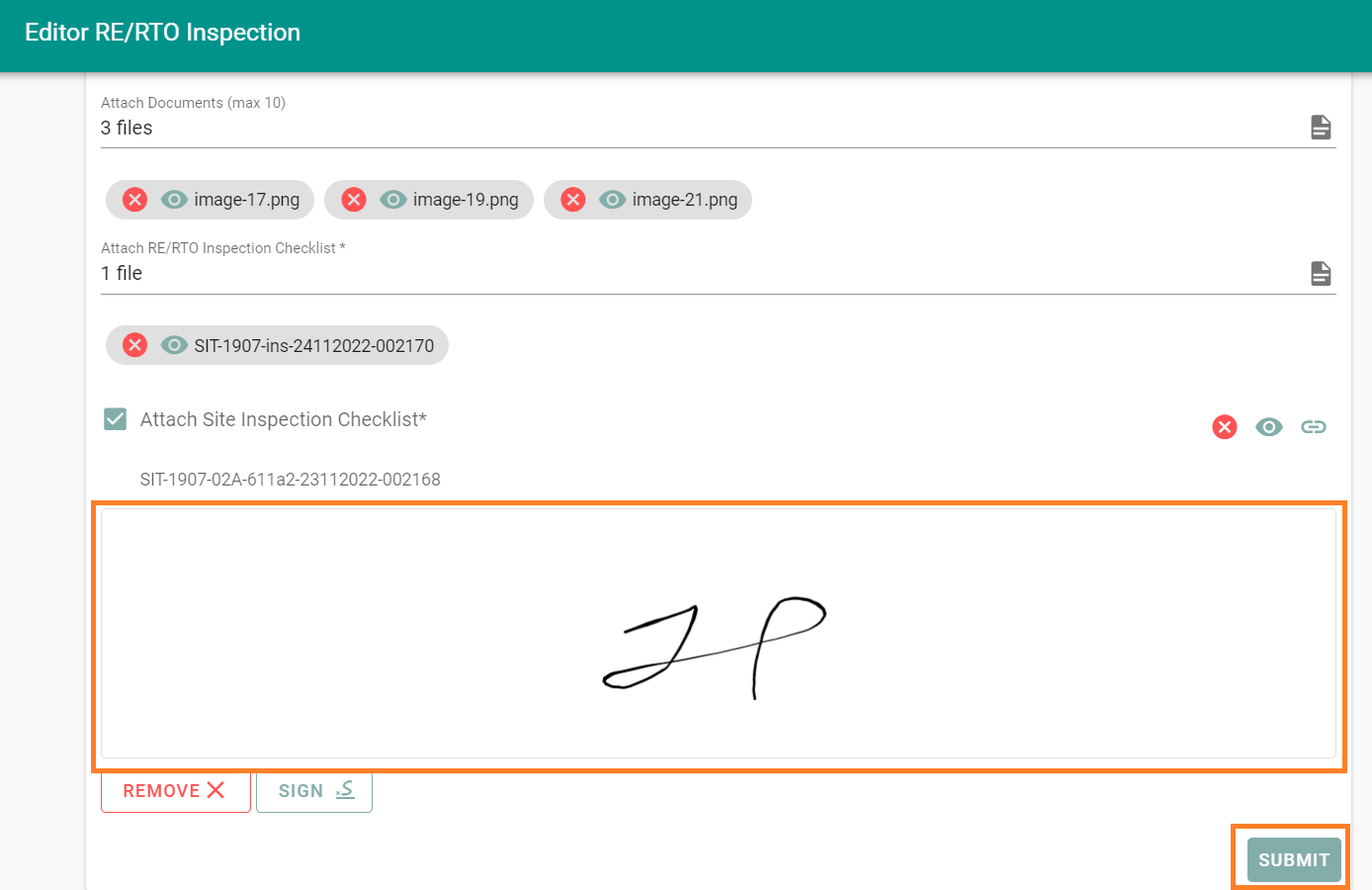 After submitting, the inspection request status is "Pending Confirmation" and will appear on the list beside the RE/RTO Inspection module calendar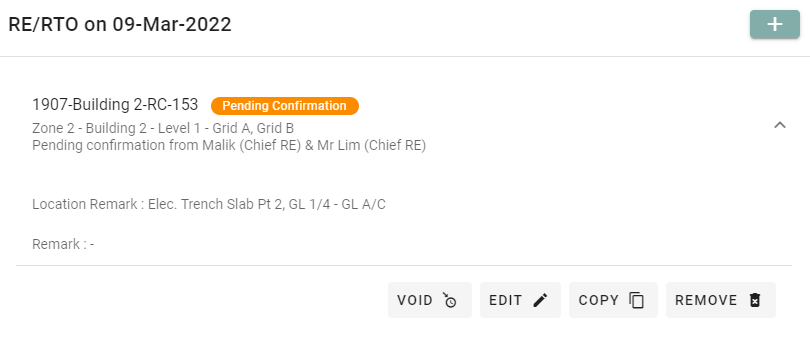 - VOID = To cancel an inspection request
- EDIT = Edit the Inspection detail

- COPY = As long as it hasn't been confirmed by RE, you can still edit the inspection detail
- REMOVE = To Remove Inspection
Related Articles

Resubmit Inspection request by PE

When your inspection request is rescheduled by RE, you will receive a notification telegram along with a link. Follow the link to resubmit the inspection request. You can also find your rescheduled inspection requests in the RE/RTO Inspection ...

Assign user to Project as Project Engineer (Site Inspection)

Login to CTMS as Administrator user Click Project Setup Click Users menu Select Project, then click Add New Assignment button (+ Orange Button) Select User, in the Role selection choose Project Engineer then click SAVE.

Download RERTO Inspection report

A. Download RERTO Inspection pdf file 1. Login to CTMS 2. Click on Records - RE/RTO Inspection 3. Click the 3 dots button on the inspection you want to download 4. Click on Print button 6. Click print orange button in the corner B. Bulk download ...

Multiple Download RERTO Inspection

Login to CTMS Go to RE/RTO INSPECTION part Click Records Click Tab INSPECTIONS Click the 3 dots button on one of the inspections, then click Download Mark which Inspections you want to download Then click the download button (orange) Wait until ...

Project Role for RERTO Inspection module

RE/RTO Inspection Requestor User: Maincon user Permission: Request Inspection (RE/RTO INSPECTION) Allowed to manage request RE/RTO Inspection Void requested inspection Copy requested inspection Manage supportive document Handle Corrective ...